Doctors, state officials provide COVID-19 vaccine update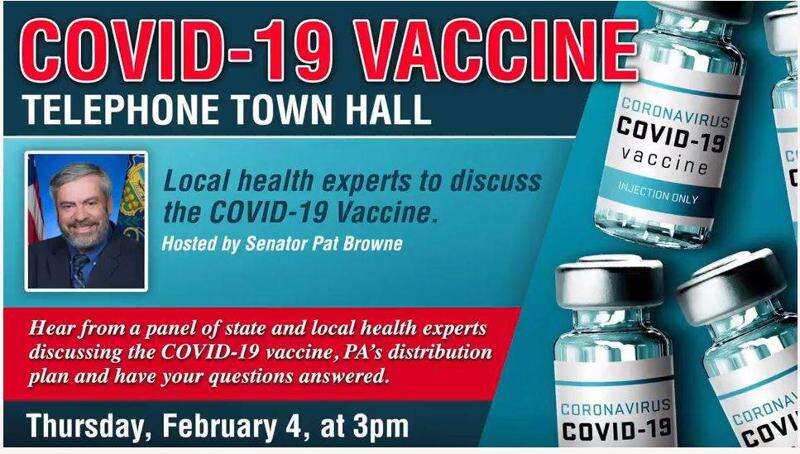 By SARIT LASCHINSKY
Special to The Press
During a Feb. 4 telephone town hall organized by state Sen. Pat Browne, R-16th, officials from Lehigh Valley Health Network and state government provided information, and answered constituents' questions about COVID-19 vaccines and their distribution.
The panel featured Dr. Brian Nester, chief executive officer of LVHN, Dr. Timothy Friel, LVHN's Department Chair of Medicine/Infectious Disease and Joan Bradbury, executive director of the Senate Health and Human Services Community.
To begin, Friel said he wanted "to start on a moment of celebration," noting one year into the pandemic, two vaccines have already been authorized by the Food and Drug Administration for use to prevent COVID-19.
He said, to date, more than 27 million Americans have received at least one dose of the authorized vaccines including more than 880,000 in Pennsylvania.
Friel said the vaccines, created using mRNA, signals the body's cells to produce large amounts of novel proteins to stimulate an immune response, as well as the production of immune cells and antibodies to prevent future infection.
He also addressed concerns about how quickly the vaccines have been developed, stressing he had been vaccinated as a health care professional and is encouraging others to get it as well.
"I can assure you that whereas the vaccines themselves are new, the result of very intense focus over the last year, the technology to develop mRNA vaccines is not new," Friel said, adding mRNA vaccine technology has been developed for more than 20 years.
Both the Pfizer-BioNTech and Moderna vaccines have demonstrated they effectively prevent individuals from developing COVID-19 symptoms around 95 percent of the time, according to Friel.
Friel said the most common side effects include pain at the injection site, muscle and joint aches and pains, headaches and fatigue, which mostly occur 12-18 hours after vaccination and usually resolve after a few hours or 1-2 days later.
He also noted that LVHN will continue to monitor clinical trial participants for at least two years for long-term effects, immune responses and safety data.
In response to a question about the need to continue mask-wearing and social distancing, Friel said more data is needed about whether the vaccines "can abort or totally prevent asymptomatic carriers of the virus.
"What we're trying to achieve is herd immunity, and having enough people vaccinated that the likelihood of transmitting to someone else who's susceptible goes down tremendously," he said.
Friel added new COVID-19 variants are spreading, and early data suggests the vaccines might not be as effective at preventing symptomatic disease.
"What we do know, though, is you can comfortably wait at least 90 days after your recovery from COVID-19 to get your vaccine," he said.
Nester spoke about the process by which vaccinations and registrations were being handled on the state and local level, noting the federal government's Operation Warp Speed initiative had laid out several expectations for vaccine delivery.
Nester said currently vaccines are being given to people in Tier 1A, including health care workers, people age 65 and older, and individuals 16-64 with certain medical conditions.
He said it will take time to vaccinate a sufficient number of the hundreds of thousands of Tier 1A individuals in the community before progressing into Tiers 1B and 1C, which are largely identified by a person's type of work.
"It's probably going to be months before we move into the next tier, at least from the projections of supply and demand that we're seeing right now," Nester said.
Nester said the state and federal governments require rigorous reporting of COVID-19 vaccinations, and LVHN is using the myLVHN patient portal to process its patients.
Once individuals enroll and answer the necessary questions, they are preregistered for vaccinations.
Even non-LVHN patients can sign up for the patient portal and be matched to their correct vaccination tier.
"I need to say that probably, most importantly, we have to remember our vulnerable communities; vulnerable individuals," Nester said, noting LVHN was creating a multichannel approach.
This includes big-tent events such as the annual Dorney Park flu shot event, hospital campuses, "big box events" planned at empty shopping centers, physician practices, and mobile SUV and van units to take vaccines to vulnerable communities in conjunction with community organizations.
"We have lots of capacity. As soon as we can get the vaccine, we will get it in arms," Nester said.
Bradbury added to Nester's comments about the different vaccination tiers.
She noted that recent directives from the federal government to include people 65 and older, as well as the 16-64 population with preexisting conditions, have increased the number of people in the Tier 1A category to around 3.5-4 million.
Bradbury provided a statewide and general perspective on the vaccination efforts, explaining there are the three categories by which vaccines are being distributed.
The first is the Federal Pharmacy Partnership, in which the federal government has partnered with CVS and Walgreens to hold clinics and distribute vaccines to the residents and staff at nursing facilities, assisted living facilities and personal care homes.
"We're at the point now where at least all of our nursing facilities across the commonwealth have at least received their first dose of vaccine, and so we're going back and making sure that they get their second doses for both residents and staff and then moving on to those living in assisted and personal care homes," Bradbury said.
On the state level, Bradbury made note of two different ways vaccines were being distributed.
The first is through vaccine provider participant which include LVHN and other health networks, health systems and local pharmacies.
The second is through the Retail Pharmacy Partnership, which includes pharmacies such as Rite-Aid and Topco.
"I understand that these words and these names probably don't mean much to many, but it is important to note there is vaccine coming into our state from these three different distributions," Bradbury said.
"We are continuing to try and communicate as much as we can from the Senate, and having town halls like this are really, really helpful to make sure we can get this information out to all of you."
A map and applicable information is available on the Department of Health's website at health.pa.gov. This includes a list of all vaccine providers statewide and the necessary contact information.
Furthermore, Bradbury said no doctor's script is needed to receive a COVID-19 vaccine, and the federal government has partnered with manufacturers to offer the immunizations to ensure an inability to pay does not become a barrier to receiving a vaccine, though recipients might have to pay a small administrative fee.
Lastly, Bradbury answered a constituent's question about whether the federal or state government, or an employer, can mandate a vaccine.
She said receiving of the vaccine is voluntary, and doctors are encouraging people to receive them in order to help build herd immunity.
However, Bradbury noted employers and private businesses do have the flexibility to set their own standards.
"So your employer could require you get vaccinated," she said, adding equal opportunity employment laws from the federal government, which include certain religious, medical and personal exemptions, must still be followed.