Slatington Farmers Marketplace to open May 8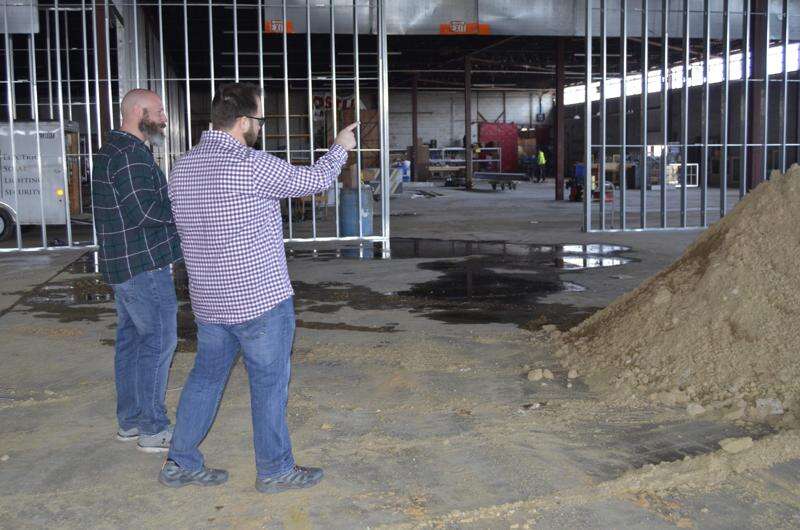 Local produce, food and restaurant vendors, even its own microbrewery.
The Slatington Farmers Market will open its doors to the public on Monday.
The Greater Northern Lehigh Chamber of Commerce will host a grand opening and ribbon cutting ceremony and will feature several food vendors, live music from Two of a Kind, and informal tours of the new space and its renovations.
The event is open to the public. Doors will open at noon, with the ribbon cutting ceremony at 12:15 p.m. Live music and festivities will continue once the ribbon is cut.
"Ribbon cutting ceremonies are some of our favorite events," said Jessica O'Donnell, executive vice president of Affiliated Chambers for the Greater Lehigh Valley Chamber of Commerce. "It's the perfect opportunity to spotlight the hard work that has gone into the creation of a business, and to bring the community out to celebrate one another's accomplishments. We could not be more excited to celebrate with the Slatington Farmers Market."
Located on the same campus as the Slatington Marketplace at 8281 Route 873, the 28,000-square-foot destination farmers market and event space is located inside of the former Keystone Lamp Factory in Washington Township.
It will feature fresh farm products, prepared foods and handmade goods from local growers, artisans and specialty food producers.
Over 50 booths are available.
With the 4,000 square foot event space and on the same campus as the Slatington Marketplace, the Slatington Farmers Market is set to be the region's premier farmers market.
"As a Palmerton resident working in the Lehigh Valley, I have driven past the Lamp Factory to and from work on my daily commute since I moved here four years ago," said Kylie Adams, assistant vice president of Affiliated Chambers for the Greater Lehigh Valley Chamber of Commerce and Carbon County Chamber. "Seeing someone take this property, breathe life into it, bring jobs back to it - we couldn't be more excited to see what is in store for the Farmers Market. I'm excited to have a new spot to grab a bite to eat, pick up some produce and enjoy some live music."
The owners, Chris White, Joshua Karoly, and J.P. Karoly supports local businesses and farmers.
"From our first conversations, Chris expressed his interest in making sure it was not only a strong business, but a strong business that supported the local economy," said Adams. "The Chamber is here to help make those connections, and it's great to see how active Chris and his partners have been in truly trying to connect with and elevate existing businesses to ensure our community will thrive."
The space - which spans the entire right wing of the historic factory - will have vendor booths, as well as spots to sit and eat, socialize. There are hopes of connecting with those who frequent the D & L Trail, as well as maintaining it as a local hang out to area residents.
The Slatington Farmers Market will be open 9 a.m. to 9 p.m. Friday and Saturday, and 10 a.m. to 5 p.m. Sunday.
Additionally, there are plans to expand the antique mall by another 50 vendors, which would eventually give them about 200 vendors.
Andy Gildner, owner of Keystone Technology LLC, and chair of the Greater Northern Lehigh Chamber of Commerce, said, "The Greater Northern Lehigh Chamber is proud to welcome The Slatington Farmers Market to our footprint, and we look forward to supporting them in their growth for years to come."
For more information, visit www.theslatingtonfarmersmarket.com/), or visit Facebook or Instagram at @theslatingtonfarmersmarket. To preregister for the event, visit the Lehigh Valley Chamber's Event Calendar at www.lehighvalleychamber.org/events.
The total anticipated construction cost is about $2.5 million. The architect for the project is Daniel Ebner Architects of Allentown.