Marian honors school 'legend'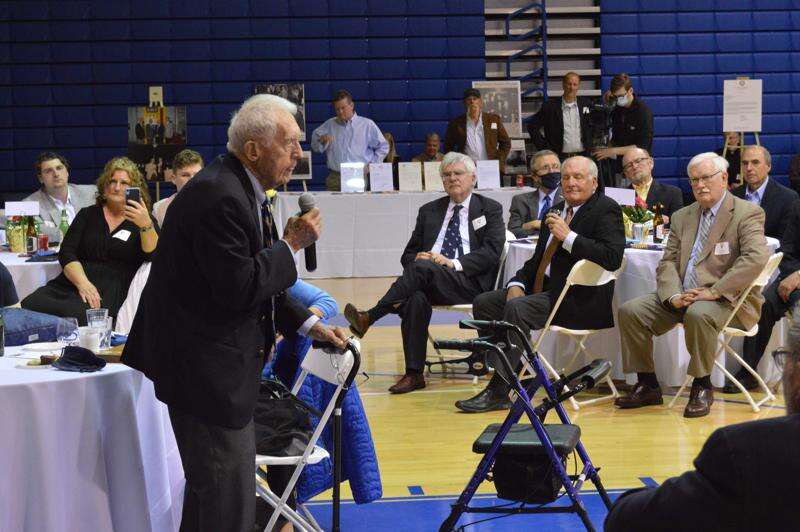 On Friday, Marian Catholic High School alumni honored their living legend, John P. "Jack" Malarkey, who served the school for more than four decades and remains a loyal supporter.
Former students and staff gathered to celebrate their longtime leader and officially add his name to the school's gymnasium.
Malarkey's students spoke about the impact he had on them. He in turn led them in the alma mater and expressed his gratitude for their recognition.
"The brilliance of your character has permeated the rise of many Marian High School faculty, staff and students, and we're reminded that those who instruct the people in goodness will shine like the stars for all eternity," said Sister Rose Mulligan, IHM, 1984.
The speakers at the ceremony, who each represented one of the four decades during which Malarkey served the school, said he was a role model through his actions and words.
Malarkey's career as an educator at Marian spanned four decades, including 20 years as principal. His career began before the school building was constructed.
Along the way he also served as vice principal, teacher and coach. But throughout his career, and in the years since he retired, he was willing to do any job that was needed to support the school.
Malarkey has been known to mow the grass, paint the lines on the gym floor, and fix things around the school.
Bruce Shickora, '76, recalled how when Malarkey coached the football team, he also served as the equipment manager, athletic trainer and bus driver. Years later, he recalled how in the midst of the busy Men of Marian picnic, while most people were outside enjoying the celebration, Malarkey was in the cafeteria peeling and cutting potatoes.
"You were always willing to do the heavy lifting without reservation. When we think of you, we think of your loyalty and tireless efforts," Shickora said.
John Quashnoc, a 1965 alumnus who played football for Malarkey, spoke about the values which he imparted on his students including hard work, serving others, and the power of prayer.
"The values he represents are the values you can expect to take away with you after your Marian experience," he said.
The Rev. Gene Ritz, J.C.L. 2000, chancellor for the Diocese of Allentown, thanked Malarkey's wife, Jane, for the sacrifices she also made for Marian Catholic. Ritz said Malarkey educated his students about the importance of faith through his daily actions.
"I would encourage everyone to look around, not just at the wonderfully updated gymnasium, but at each other. Mr. Malarkey, our lives are your monument," Ritz said.
Until Friday night, Marian alumni and supporters donated more than $140,000 to a fundraising campaign in Malarkey's name. A goal of $150,000 set by organizers of the event was the surpassed over the weekend with the aid of a $10,000 anonymous donation.
The unnamed donor told committee members, "Marian High School and Jack Malarkey have never failed at anything - we are not going to start now! This gift keeps that tradition going."
The donated funds were partly expended toward updates to the gymnasium, including replacing the bleachers which have been in place since Marian was built, and purchasing new updated banners.
Hoffa said the bleachers, like Malarkey, have been a support to Marian athletics.
"They helped to support the Marian family, and so did you," Hoffa said. "In your honor, they're going to continue to support the Marian Catholic family for years to come."
The Rev. Allen Hoffa, Marian's Head of School, presented Malarkey with a piece of the old bleachers - made from Seat 1, Row 1, where Malarkey sits for most games. He said Marian supporters will be able to buy a piece of the old bleachers, turned into a souvenir by students in the school's STEM lab.
The money left over from the initiative will go toward the creation of a tuition assistance fund named for Jack and Jane Malarkey.
Jack Malarkey said he was in awe of the tributes he received from his former students. He spoke about how he once thought his calling was the priesthood, but then realized that it was teaching young people. He said Marian was a special place to do it, because so many others ­- from a wide geographic area - were willing to make sacrifices to make it a better place.
Before leading his former students in the Alma Mater, he said it was a privilege to work with the students and faculty over his career.
"Thank you for opportunity to make this school what it was, is and will be," Malarkey said.