LV rally comes up just short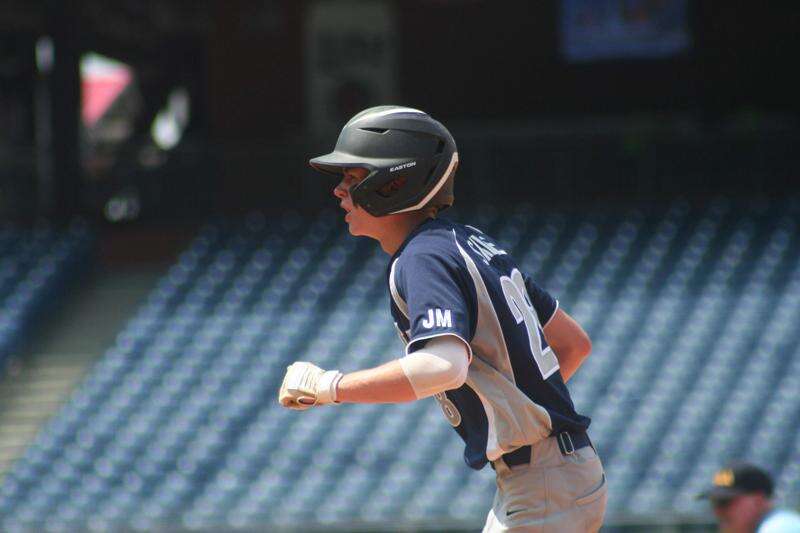 PHILADELPHIA - Ted Plessl looks to find players he calls "grinders" for the Lehigh Valley Carpenter Cup baseball team.
The veteran manager felt that he found a lot of those guys for the 2021 team, and they showed it Monday at Citizens Bank Park in Philadelphia when they took the game to their final at-bat before falling 6-5 to Mercer County.
In fact, there are some who believe that Lehigh Valley had tied the score in the bottom of the ninth inning.
It all started with back-to-back singles from Chaise Albus (Bethlehem Catholic) and Brock Bollinger (Palmerton). Northwestern Lehigh's Nick Henry put down a perfect sacrifice bunt to move both runners over and Salisbury's Quinn Warmkessel delivered a single to right field scoring Albus with Plessl windmilling his arm to tell Bollinger to keep coming.
Center fielder Dan Merkel delivered a throw to the plate that took catcher Justin Guest to the first base side of the plate, giving Bollinger an opening to slide through. Guest dove to apply the tag and what happened next is up to interpretation.
Officially, Guest made the tag in time to record Bollinger as the second out of the inning.
"In my opinion, I was safe at home," said Bollinger when going through the play. "He was up the first baseline and I hit the outer part of the plate, but the call didn't go our way."
Meanwhile, Plessl, who had an admittedly less than perfect view, didn't argue the call.
"I don't think he [Bollinger] ever got to the plate," he said. "I was blocked but it looked like their guy got him from where I was."
After falling behind 6-0 going to the bottom of the fifth inning, Lehigh Valley had to chip away to make the game interesting.
With one out in the fifth, Blake Barthol (Parkland) walked and scored when JD Greeley (PM West) doubled to left center field. Greeley wasn't on second for long as Rafe Perich (Northwestern Lehigh) followed with an RBI single to make it 6-2. Mercer County pitcher Cody Rich got a groundball double play to end the threat.
In the seventh, Greeley and Perich teamed up to open the frame with back-to-back singles and moved up a base on a groundball out. Bollinger singled to left with Greeley scoring, but Perich got hung up between third and home and was tagged out for the second out of the inning.
Henry then knocked in Bollinger, who had moved up to second during the rundown, making it 6-4. Liberty's Parker Frey hit into a fielder's choice to end the inning.
Lehigh Valley looked to deliver heroics in the ninth, but the rally came up inches short, eliminating it in the semifinal round after a pair of earlier victories.
"We knew we could come back, and that play kept us from either going extra innings or possibly getting a walk-off win," said Bollinger. "We believed all along that we would be leaving here with a win."
"This was a great group of guys," said Plessl. "They worked hard, and they really never gave up even when they fell behind early, they just kept the energy level high and never quit on us.
"I think that I speak for the entire coaching staff when I say that it was a good crew. Now we start to look at next season."
NUMBERS ... Several area players had strong games at the plate. Bollinger had two hits, an RBI and a run scored; Perich had two hits and an RBI; Henry had a hit, a walk and an RBI; and Pleasant Valley's Jack Smale walked twice and stole a base.
HOT ENOUGH FOR YA? ... The game was played in searing heat and humidity with temperatures reaching the low 90s and humidity making it feel like the temperatures were in the upper 90s. The players did well to stay hydrated and Bollinger admitted it was tough to play behind the plate in the heat but was glad to have the opportunity.
BLAME IT ON BUCKY ... Officially, none of the Carpenter Cup teams have nicknames, but Lehigh Valley does have a mascot named Bucky. Bucky is a male whitetail deer, whose head is mounted and gets a good spot on the Lehigh Valley bench during games played at Citizens Bank Park. Bucky goes back to the Veterans Stadium days when Lehigh Valley played Bucks County and one of the players brought Bucky along as a good luck charm. After winning the game, Bucky was given to Ted Plessl's son and has become the team mascot. Players touch Bucky's nose for luck prior to the games.
Mercer County 300 030 000 - 6 8 0
Lehigh Valley 000 020 201 - 5 14 2
Dimino, Delany (3), Rich (5), Stillwagon (6), Winzinger (8), DiMaggio (9) and Birge, Guest; Welch, Ratti (3), Moyzan (5), Waller (7), Johnson (9) and Ludwick, Bollinger. HR: Mercer Conty - Bethea.