Biden trucks through Valley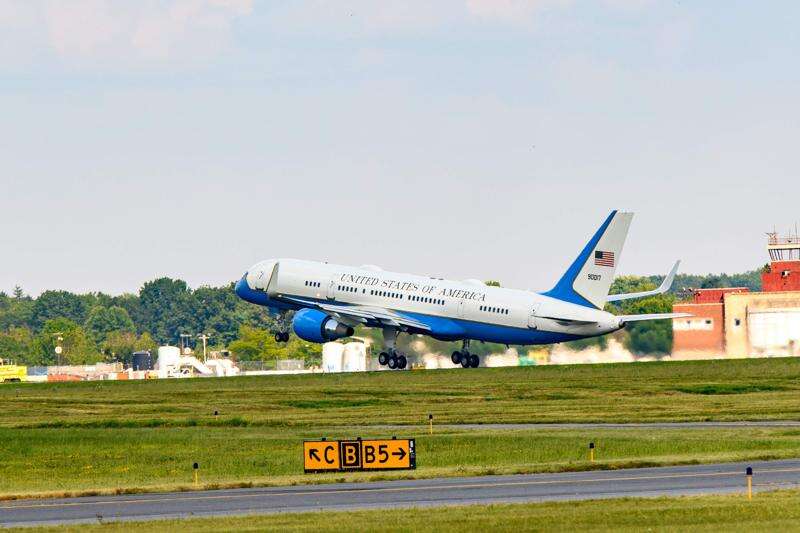 In a short, sleeves-rolled-up-visit to the Mack Truck assembly plant in Macungie last Wednesday, President Joe Biden promoted his economic plan to the Lehigh Valley.
He joked with the group of supporters saying, "We're not here to say anything. I just came here to drive a truck," as he eyed the five Mack trucks arrayed behind him in the cavernous warehouse stocked with truck parts.
After acknowledging some of the political leaders present (Pennsylvania Governor Tom Wolf – "You're one of the best governors in the country, a good friend," and 7th District Congresswoman Susan Wild – "You've been a tireless champion for the men and women of the Lehigh Valley") Biden quickly got into the business of delivering his message.
On Covid-19: "We have a lot of people not vaccinated. The pandemic we have now is a pandemic of the unvaccinated. So please, please, please, please, please protect yourself and the children out there. It's important."
On the economy: "I said I was running [for President] for three reasons. To restore the soul of this country; to restore decency and respect; to rebuild the backbone of this country.
"It was hardworking middle-class folks who built this country," Biden said. "It was unions who built the middle class. That's why I moved to pass the American Rescue Plan after I got elected, because we needed to act quickly and boldly to save jobs, save businesses and save lives. We added more than 600,000 jobs per month since I've taken office. That's over three million jobs."
He said the economy is experiencing the fastest growth of any administration on record.
"We brought the economy back from the brink," he said. "Checks in people's pockets, shots in people's arms, tax cuts for working families with children. And we designed our strategy not only to provide a temporary boost, but to lay the foundation for a long-term boom that brings everyone along.
"Things have been great for corporations and for the very wealthy, those at the top," Biden said. "There are 55 major corporations that for the past three years have paid zero in federal taxes, making over $40 billion. They have no complaints."
He said he pledged to "change the paradigm, so that working people can have a fighting chance again: get a good education, get a good job and a raise. To take care of their elderly parents and afford to take care of their children, to stop losing hours of their lives stuck in traffic because the streets are crumbling, and to stop waiting on an Internet that is slow and spotty.
"That's what the economy we're building is all about," Biden said.
"We've just reached a bipartisan agreement on infrastructure, a fancy word for bridges, roads, transit systems, high speed internet, clean drinking water, cleaning and capping orphan [abandoned gas] wells and mines, and a modern resilient electric grid."
On bipartisanship: "While there is a lot we don't agree on, I believe we can work together on the few things we do agree on."
Part of his "Build Back Better" plan includes education. Biden said he supports free kindergarten and two free years of community college.
"I can make sure we're going to educate your kids so we're the best educated population in the world," he said.
On childcare: "Folks, we need more affordable childcare. There are a lot of women not working today because they can't get -- go back to their jobs because they have no one to take care of their children; they can't afford it."
On caregivers: "Men and women nurses are angels. Doctors help people live; nurses help them want to live."
On elder care: "We are working to expand home care for seniors. We must provide better pay for caregivers," Biden said. He thanked Pa. Senator Bob Casey, who did not attend, for supporting elder care.
On paid leave: "We're one of the only industrial countries in the world that you don't get paid leave if you have a sick son, daughter, mother, father, wife, husband, to have some time to take care of that."
On the trickle-down theory of economics: "We know that trickle-down economics has never worked. But when working families do well, everybody does well, including the wealthy."
On the Buy American Act: Notably, he said he has ordered his budget department to make "the biggest change in the 70-year-old" existing Buy America Act to change the way the federal government buys equipment such as trucks.
Biden said the current law requires that products the federal government buys have "substantially, or 55 percent American made components.
He said over the years loopholes have weakened compliance with the law to the point that he needs to boost the current 55 percent to 75 percent components for products purchased by the federal government.
"And this is actually a double whammy," Biden said. "First, 55 percent is not high enough. And second, contractors don't have to tell us the total domestic content of their products, they just have to tell us that they hit the threshold. Nobody checking. Well, they got a new sheriff in town. We're going to be checking."
Currently, the head of the procuring agency can determine if compliance with the act is inconsistent with the public interest or the cost of acquiring the domestic product is unreasonable.
Biden said he has added a new White House office which will review waivers approved by the head of the purchasing agency to ensure that waivers are justified.
On the supply chain: "We will keep trading with our allies, but we need to have a resilient supply chain of our own so that we're never again at the mercy of other countries for critical goods ever again. Ever.
"With this rule, we'll be able to buy medical products from companies like OraSure," he added. OraSure is located in Bethlehem.
On the shortage of computer chips: "We're investing $50 billion to have the best chip manufacturing in the world come and build factories in the United States of America. And it passed the Senate. It's called the CHIPS Act, and it's part of my Build Back Better plan. And it is bipartisan [because] as many Republicans are concerned about it as [are] Democrats."
On electric vehicles: "I just saw the work you're doing on the heavy-duty electric vehicles here, like electric garbage trucks. You know, there are more than 600,000 vehicles in the federal fleet, including the majority of -- the largest portion of which are at the Post Office."
Biden wrapped up his remarks touting the resilience and productivity of the American worker.
"And if you give American companies and communities the chance, there's nothing they can't build," he said.
Among other local business people and political leaders in attendance were Lehigh County Executive Phillips Armstrong, Northampton County Executive Lamont McClure, Lehigh County Commissioner Geoff Brace, state Representative Peter Schweyer, and Richard Masters, chairman and CEO of MCS Industries Inc. Masters was accompanied by his wife Susan.