NL tops Raiders in storm-shortened game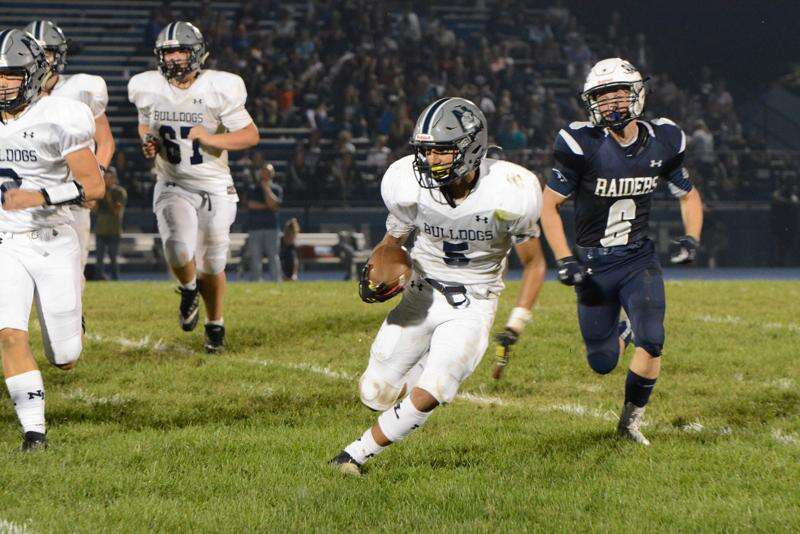 September 14. 2021 12:38PM
Timely turnovers and explosive plays are factors that are key in any football game.
On Monday, Northern Lehigh was able to force turnovers in key parts of its contest against Tamaqua and used big plays in the passing game to pull away from the Raiders, coming away with a 21-0 victory.
The contest was delayed at halftime and was never restarted due to a strong storm that contained damaging winds and knocked out the power in the Tamaqua area for several hours.
After a lengthy delay, the teams decided to not resume play at a later date and declare it an official game. With the contest already pushed back a couple days to last night, and with both teams having games this coming week, it would have been nearly impossible to continue it today or tomorrow.
Tamaqua actually got off to a good start Monday night as it threatened to take an early lead.
After a good kickoff return by Raiders' running back Warren Stewart to the Northern Lehigh 45-yard line, Tamaqua put together a nice drive that got it all the way down to the Bulldogs 17-yard line. A hookup between Nathan Gregoire and Zander Coleman on a rollout to the right sideline looked like it was going to go in for six, but just as Coleman was approaching the goal line, a Northern Lehigh defender punched the ball out from behind, with the ball going out of the back of the end zone for a touchback.
"We were fortunate early on and we caught a break during their first offensive possession," said Northern Lehigh head coach Joe Tout. "They have an explosive return and then drive right down the field on us, and they look like they're going to score, but we get that fumble."
The Bulldogs then took advantage, going 80 yards in 13 plays, capped off by a Dylan Smoyer strike to Nick Frame from 28 yards out to give Northern Lehigh a 7-0 advantage with 3:31 remaining in the first quarter.
After the Raiders kept it close for the majority of the second quarter, trailing by just seven, Smoyer and his explosive set of wide receivers started to click. Late in the second frame, a 34-yard pitch and catch between Smoyer and Trevor Amorim would setup a nine-yard Smoyer rush to make it 14-0.
Turnover woes then struck for Tamaqua again.
This time, a 30-yard Raider gain ended with the Bulldogs stripping the runner again. After the turnover and a personal foul call against the Raiders, Northern Lehigh didn't waste any time, making it 21-0 on a 33-yard connection from Smoyer to Nick Frame with just nine seconds left in the half.
"Throughout the game, we just kind of made plays when we had to, especially on third and fourth down, where we had some key conversions," said Tout.
"We were worried about having a few days off and you can see we weren't clicking, but the offensive spark from Nick Frame tonight and the explosive plays were the difference for us."