Storm levels trees in Tamaqua area, knocks wires down, closes schools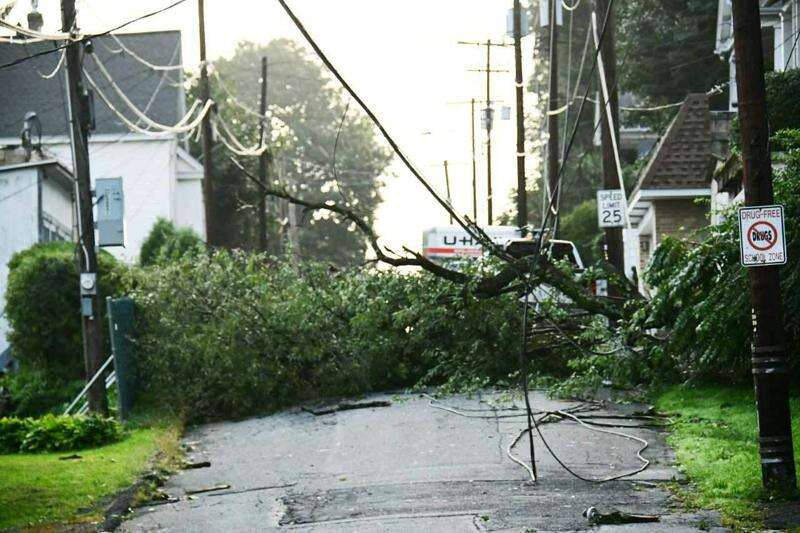 September 14. 2021 02:45PM
A thunderstorm with winds over 65 mph caused thousands to lose power and closed roadways around Eastern Schuylkill County Monday night.
Tamaqua, Marian and St. Jerome's were forced to close school Tuesday because power was out. Panther Valley School District was on a two-hour delay.
When Tamaqua Area School District posted the closure, the message followed with "Tornado???"
Because the storm caused widespread damage, Emergency Management Agency officials do not suspect a tornado. But the National Weather Service is still collecting information about the storm.
On Facebook, people reported a "freight-train sound" as the storm moved through the area.
Schuylkill EMA Director John Matz said that local fire companies and public works departments were out clearing trees throughout the night to reopen more roads that closed.
"We had a significant number of utilities out. PPL is doing their best to get everything back. Fire companies were out last night, public works from different municipalities were out clearing roadways of trees throughout the night," Matz said.
The Coaldale Fire Department responded to 12 calls between late last night and into the early morning hours resulting in 184.5 man hours.
It is the first time Chief Steve Polischak can recall shuttling EMS Units and St. Luke's hospital staff through the Mines Property around the blocked roadway of Route 209. Power outages continued to affect over 9,000 PPL customers during the daytime hours Tuesday. Of those without power, 990 were in Tamaqua and 2,385 were in Rush Township.
During the height of the storm, more than 25,000 PPL customers were without power, according to the utility. Schuylkill County was the hardest hit in the region, with 9,000 customers out as of 11 p.m. Of that, 6,000 were in Rush Township.
"We work as quickly and safely as responsible to restore any customer without power any time there is a storm," said Jane George, a PPL spokesperson.
Many streets in Tamaqua and Route 209 between Tamaqua and Coaldale were obstructed by trees.
The National Weather Service said the storm produced winds of 68 mph at its weather station in Tremont, Schuylkill County, west of Pottsville. NWS said it received numerous reports of damage to trees and crops from the Hometown area.
A large tree fell onto the front of a car during a severe thunderstorm in Summit Hill.
Shawn Hoben, Summit Hill fire chief, said the tree was about 30 feet tall and had a trunk about 20 inches thick. The driver of the car said the tree struck the front driver's side corner of the car and deployed his air bag. He was not injured but the car sustained moderate damage.
The incident happened at about 8:45 p.m.
Members of the Summit Hill Fire Department used chain saws to cut up the large tree and dispose of it over the bank. The incident happened near the top of the White Bear Hill.
After cutting up this tree, the firefighters responded to another tree down, this time on the Summit Hill-Lansford hill. No vehicles were hit.
Trees also were reported down on Route 209 between Lansford and Nesquehoning and on Route 54 near Hometown. A fire call was answered by the Lansford Fire Department on East Ridge Street during the height of the storm.
The weather alert came just after 8 p.m. and the skies quickly opened up.
Tamaqua hosted Northern Lehigh for a varsity football game Monday night.
Both teams went into the locker room for halftime and were kept inside for a lightning delay, but never made it back onto the field.
"There were a few drops of rain and then ridiculous wind and downpour," said Northern Lehigh assistant coach Matt Davis.
Like many others, including players, coaches and fans, Times News sports reporter Brad Hurley was in the thick of things on Stadium Hill.
"That was one of the crazier things I've ever witnessed," Hurley said. "It looked like mini dirt devils everywhere, it had to be 60-70 mph winds - it almost knocked me over."
Tamaqua Superintendent Ray Kinder confirmed a telephone pole fell onto the fence of the Tamaqua Football Stadium.
While there does not appear to be a ton of damage on Stadium Hill caused by the storm, athletic director Mike Hromyak said there is garbage everywhere.
Northern Lehigh football coach Joe Tout said the ride home wasn't too bad.
"I was slow getting out of Tamaqua and the cheering bus had contacted our driver via radio that there was a tree down on 309 but you could pass. There were several limbs and branches down on the roadways so it was a slow ride home."
Tout lives in Lake Hauto. "I was getting several texts on the bus ride home on how poor the roadways were on 309 and 54."
His sister and brother-in-law Brad Matalavage were stuck on 54 before Tippets because of a fallen tree.
"Brad actually got a car on the other side of the tree to give him a ride home so he could get his chain saw. Brad and a couple others were able to chop up the tree to open 54 in that area," Tout said.
He added, "But yes in what is shaping up to be a very strange football season. This will be another game we won't forget."
Terry Ahner, Ron Gower and Justin Carlucci contributed to this report.